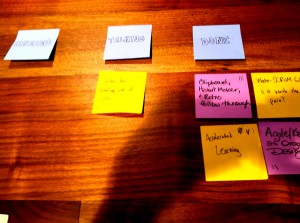 Topics that made the cut:
Clipboard, Habit Maker, & Retro follow-through

Shared tools for helping changes from retrospectives stick

A very large picture is put on the wall. Then covered with post-its that represent behavior changes to make (e.g., pair on a task). As team members complete the behavior change tasks, they remove the post-its. The first team member to guess what the image underneath is gets a prize.
Behavior changes are put on a clipboard. A team member caries the clipboard and visits team members reminding them of the change. This is not a governance activity, but a reminder.

Justin points out that a group has to get to planning actions before they can follow through on them. Considered using a technique from above as "bait" to get a team to form actionable changes from a retrospective.

Accelerated Learning

Framework for learning from Willem Larsen. Featured in the book-in-progress Name This Book.
5 Items: Alive, Fluency, Signal, Focus & Setting.
If you take only one thing from the model, create learning environments that recognize people's humanity.
Noted that the "environment" and setting for retrospectives can greatly affect their effectiveness.

Water-SCRUM-fall, is it worth the pain?

When a program is structured very large and slow, with a staged release plan (e.g. in the first year, we'll build the db…) but is to be run "agile" this causes pain for teams. What do to?
Team members tend to see activities such as iteration planning, backlog management, retrospectives, demos, etc. as "stupid" and "a waste of time".
If you don't have a purpose, it's hard to know if you're making
progress toward a goal. Team may need to set its own sub-goals, if the business isn't providing them.
Need to get the big program focussed on results. Outcomes, not output.
May come from fear of actually releasing. Business may not want the
changes that would come from producing a result.

Agile/Kanban as Organiz. Design
Tricks for breaking out of ruts

I'm in a rut. How do you break out of ruts?
The Plateau Effect may help.
What about the 5 rules of Accelerated Learning?
Try getting others to see the same problem you see. Then you are not alone in working on the problem and not alone in the rut.
Ruts represent a conflict of desires. Boredom comes from prevention from doing what you want to do.

How do you use Lean for your extra-work creative projects?

Talked a lot about Personal Kanban

Books: Personal Kanban, Factory of One, David Starr has written a book about it, featured in WSJ.
Beware the tyranny of the list. Kanban does not remove this.
Differentiate between "holding" and "blocked" items.
Can try to sort tasks by size. Then when presenting with time to take on a task, grab one that fits the available time.
How about Family Kanban?

Briefly touched on family retrospectives.

Merging two overlapping products and technology stacks

Merging (through acquisition) two products that overlap in both audience and functionality.
Anti-recommendation: bigwigs decide how people will work, ignoring realities. Instead, try to bring people doing the work together early and give them a chance to solve the problem from the engineering perspective. Create value teams.
What does success look like? What will failure look like?
Is there common understanding of the overlap? Figure out how to make the people excited about doing the work – technical challenges? how will it build their careers?
Recognize what's been learned so far.
Focus on merging people over merging technology
What do the people stand to gain?